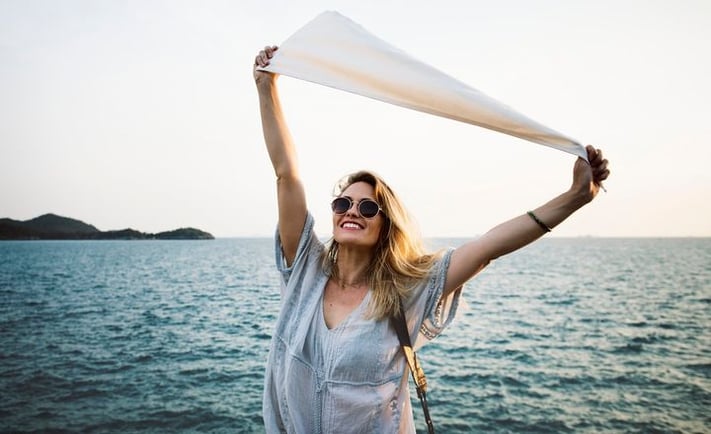 If your skin looks tired, dry, or flaky, or if you're suffering from irritation, redness, or acne, a visit to the spa may be in order. Three common spa treatments are facials, HydraFacials®, and chemical peels. Knowing the basics of each of these procedures can help you decide which is right for you.
What Is a Facial?
A facial is a general term for a wide range of non-invasive skin care treatments for the face, including steam, exfoliation, extraction, creams, lotions, facial masks, peels, and massage. A basic spa facial deeply cleanses the skin, leaving your face glowing. It can help fight certain skin problems, like mild acne or dryness, and are typically very relaxing (especially since they involve a massage component). Before you start, you and your esthetician will discuss your skin concerns and what you want out of your facial. Generally, facials consist of four basic steps: cleansing, exfoliating, massaging the face and neck, and applying a mask for your specific skin type or condition.
What Is a HydraFacial®?
The HydraFacial is a favorite of celebrities and others who need to look and feel their most radiant. This resurfacing procedure uses Vortex Technology™ to cleanse, exfoliate, extract, and infuse potent antioxidants into the skin. This non-invasive, non-surgical procedure enhances the skin, delivering instant results with no discomfort or downtime. It helps smooth and reduce the appearance of fine lines and wrinkles and repair the effects of sun damage like brown spots and hyperpigmentation. Getting a HydraFacial can also benefit oily and acne-prone skin, reducing the size and appearance of enlarged or congested pores. Satisfied clients report their skin feeling incredibly clean, dewy, and fresh with tighter pores and improved blood flow.
The HydraFacial procedure is a two-step process. An LED light therapy mode provides additional benefits after the HydraFacial treatment, either using a red LED to improve the appearance of skin firmness and resilience and reduce the appearance of fine lines and wrinkles, hyperpigmentation, and other signs of aging or a blue LED light for oily skin or breakouts. The in-office procedure is augmented by a daily care treatment serum for at-home use, which helps to extend the benefits and improve your skin's health.
What Is a Chemical Peel?
In a chemical peel, an acidic solution is applied to the skin. This encourages the sloughing off of dead skin, revealing brighter, fresher skin underneath. This can help reduce the look of wrinkles, age spots, and sun damage, helping you look younger and fresher. There are many types of chemical peels, designed specifically for specific skin types and desired results. They can illuminate, revitalize, and invigorate your appearance.
With most peels, you will see noticeable results after just one peel; for compelling results, however, and to keep your skin looking and feeling its best, consult with our nurse practitioner to plan a regular schedule of treatments.
Visit Our Skin Wellness Center
Iowa weather can wreak havoc on your skin, from summer sunburns to dry, cracked winter flaking. Urban Effects Medspa's skin wellness center in Des Moines, Iowa, offers a wide variety of facials, including the HydraFacial procedure and choices of chemical peels to restore your skin's radiance. Contact Urban Effects MedSpa for a consultation and to schedule your spa services today!