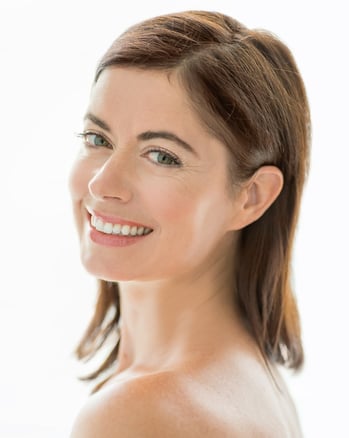 Skin rejuvenation technologies are growing ever more sophisticated, giving you more options than ever to revitalize your skin and appearance. With so many choices now within reach, many people are choosing to combine various types of treatments for remarkably improved results.
How Do Skin Rejuvenation Treatments Work?
Both laser treatments and injectables reduce wrinkles, but they do so in different ways and have different advantages and limitations. Laser treatments heat up the collagen deep in the epidermis with pulses of light while keeping the surface layer cool. The body's natural healing process then restores and repairs those deeper layers, decreasing wrinkles and increasing the overall firmness of the skin. Lasers, however, do not address the muscles responsible for causing the wrinkles in the first place.
Injectable treatments like Botox, on the other hand, block the nerves and chemicals that contract the muscles that cause wrinkles. Those muscles are then weakened and paralyzed, reducing lines, marks, and wrinkles. Within one to two days, patients normally see significant improvement in moderate to severe wrinkles and frown lines.
How Can Different Treatments Complement Each Other?
Simply put, lasers and injectables each address only part of the cause of wrinkles. That's why more and more people are combining skin treatments for complementary effects. Patients are happy with the results, and researchers have also found the improvements remarkable. One study, reviewing the scientific consensus on the topic, found that combined treatments "improve clinical results, are more comfortable for patients and have no loss of efficacy or other apparent adverse effect."
Combined treatments are not only for deep wrinkles. They are also effective for tackling the early wrinkles before they have a chance grow deeper. One study mentioned in the review cited above found that combining intense pulsed light treatments and Botox is more effective in improving small wrinkles and fine lines than the laser treatment alone.
The first wrinkles caused by aging are often the periocular wrinkles, which create flabbiness in the upper eyelids, crow's feet, and wrinkles and flabbiness in the lower eyelids. A study examining individuals ranging 35 to 65 years old found that combining a transdermal spray of botulinum toxin A (Botox) and nonablative fractional laser (NAFL), decreased periocular wrinkles, while none of the 28 patients in the treatment suffered complications or adverse effects, and all were satisfied with the outcome.
Combining treatments may sound like a major commitment, but a combined treatment can often be done in a single appointment. All the studies cited above combined two or more treatments in one session.
Urban Effects Med Spa offers several signature therapy treatment combinations so you can take full advantage of combining different skin rejuvenation treatments. For example, the Urban Challenge combines four skin therapies in three treatments over four to six weeks, reducing fine to medium facial lines and improving texture, skin laxity, and clarity. Contact Urban Effects Medspa today to learn more about combining treatments so you can begin looking and feeling your best.