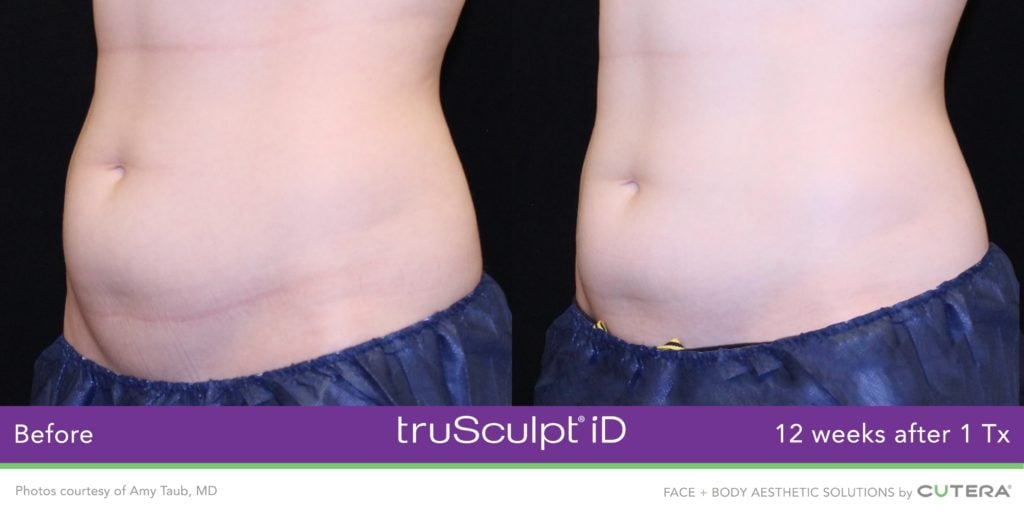 In the past, fat-reduction body sculpting options were fairly limited. Those that were available were often invasive and painful. Today's choices use cutting-edge technology to reduce fat and precisely sculpt all areas of your body—quickly, non-invasively, and with minimal discomfort. The truSculpt iD system is the next evolution in body-sculpting systems, offering impressive results faster and more comfortably than ever before.
What is TruSculpt iD?
TruSculpt iD is the latest body sculpting treatment device from Cutera, a leading global developer of laser, light, and other energy-based aesthetic systems. It uses non-invasive monopolar radiofrequency (RF) energy to heat the subdermal fat layer in the targeted area without any heat or discomfort at the skin level. The proprietary low frequency and uniform delivery technology allows the RF energy to penetrate deeply to treat the entire fat layer from skin to muscle.
During the procedure, the client's skin temperature is continuously monitored, and the energy delivery is automatically adjusted to reach and hold a therapeutic temperature of >113ºF in the fat while maintaining a cooler, more comfortably warm skin temperature. This direct energy delivery heats the adipose (fat) tissue cells, causing irreversible damage. These cells then die and are slowly removed and naturally excreted from the body. Clinical studies conducted by Cutera show an average 24% fat reduction as measured by ultrasound. This is because an average of 24% of the fat cells in the targeted area are irreversibly damaged! This process takes anywhere from 4 weeks to 3 months as the body breaks down the necrotic fat cells and flushes them out—permanently! Clients can see results anytime during that period and even beyond.
Customizable, Convenient Treatments
TruSculpt iD offers unique versatility that allows both hands-free and handheld treatment options and simultaneous treatment of multiple body areas. This allows providers to tailor treatments to clients' individual needs while reducing the overall length of the treatments. An average treatment session takes only 15 minutes!
Although the RF energy heats deep layers of the skin, most patients find the sensation easily tolerable. Typically, no pain medication, topical anesthetics, gels, or active cooling is needed. The procedure is completely non-invasive, so you can return to your full spectrum of normal activities immediately. Side effects, although rare, may include redness, sweating, and mild tenderness in the treated areas. In most patients who experience these side effects, they resolve within a few hours.
Twelve weeks after truSculpt iD treatment, patients see an average of 24% fat reduction in the targeted areas, which look smoother, sleeker, and tighter. Typically, optimal results are achieved with only 1–2 treatments in each area; if more than one treatment is desired, they should be spaced 4–8 weeks apart. A provider with expertise in administering these treatments will be able to work with you to design the best personalized, non-surgical body contouring plan for your goals.
Look Good, Feel Good
In a recent study published in JAMA Dermatology, nearly seven in 10 people in the study sample chose minimally invasive cosmetic procedures to feel good, not just to look good. More than half also listed protecting their health, boosting their confidence levels in a social setting, or looking "professional" at work as motivations.
The number of body sculpting and body contouring procedures performed each year continues to grow as the technology gets better and better. Today's devices are more effective, more convenient, and less uncomfortable than ever before. The trend is projected to continue growing steadily.
The experienced treatment providers at Urban Effects Medspa's skin wellness center, one of the leading spas in Des Moines, are helping clients all over the metro area discover how this cutting-edge technology can help them look and feel better than ever before. We are the first spa in Iowa to offer the truSculpt iD treatment! Our specialists can develop a personalized plan to reach your goals, including non-invasive treatment options like laser skin rejuvenation procedures, a customized topical skin care regimen, and post-treatment care. Contact us today to book your appointment in our skin wellness center.